It's been less than a week since we selected our new home and I've already decorated most of it in my head :) I've been driving my hubby nuts!
Our current apartment living room is just blah. Black leather couch and love seat, black coffee table, puny little TV stand, glass and chrome side tables, and not much else.
I'm going with a black/white/aqua color scheme for this room and the rest of the main floor as well.
I'll be keeping our couches and coffee table and that will be it for black furniture. Our TV stand is going to get a nice upgrade. I've selected the
Reston Corner Media Cabinet from Ballard Designs
for now.
ballard designs
I'll also be getting rid of our side tables and looking for a replacement on craigslist. I'd like to find some wood tables with pretty curved legs that I can paint a creamy white.
The one window in the room will be a beautiful large box bay and I am so in love with this fabric for the curtains:
ballard designs
Also, because there is only one window in the room, I think a mirror like this would be awesome:
ballard designs
Can you tell I love Ballard?
To break up all this black and white, I'm going to add in lots of aqua accents. I already have a few accessories in storage, and I adore the print on this pillow: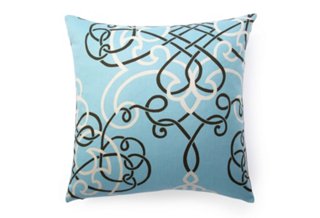 one kings lane
Hmm, what else is there? We have an appt. to select our floors on June 30th, and I think we'll be going with a dark, wide-plank hardwood. My hubby and I disagree on flooring a bit, so I'm not 100% sure what we'll end up with. The walls will be light but not white. I'd love to hear what you think, I've decorated in my head a bunch of time, but this will be my first time executing my ideas.