Have you ever heard of
My Creative Classroom
?
I stumbled upon it a few months ago and it is really cool! There is a free class you can join just by signing up for the newsletter and every 2 weeks you can download new pdf tutorials for that sessions craft theme. I think it is glimmermists right now. There is also a whole slew of classes that you can sign up for (these have a fee).
So the first one I took was Cricut Expression 101. I've figured out quite a bit on my own, but I wanted to make sure I was doing this correctly and see if I was missing out on anything. There is also a 102 starting in two weeks that I plan on taking.
Well, the last assignment was to use the cricut to make a scrapbook layout. Hello?!?! I don't scrapbook. Yes, I am totally obsessed with scrapbook items and can't help buying them. I bought my cricut because I had been hearing about, watched the infomercial and fell in love. Since I'm a good student, I went ahead and tried my hand at a layout.
Apparrantly there are things called page maps and my instructor showed us this site -
Page|Maps by Becky Fleck
How cool! I used one as a very loose guide for my layout - here it is: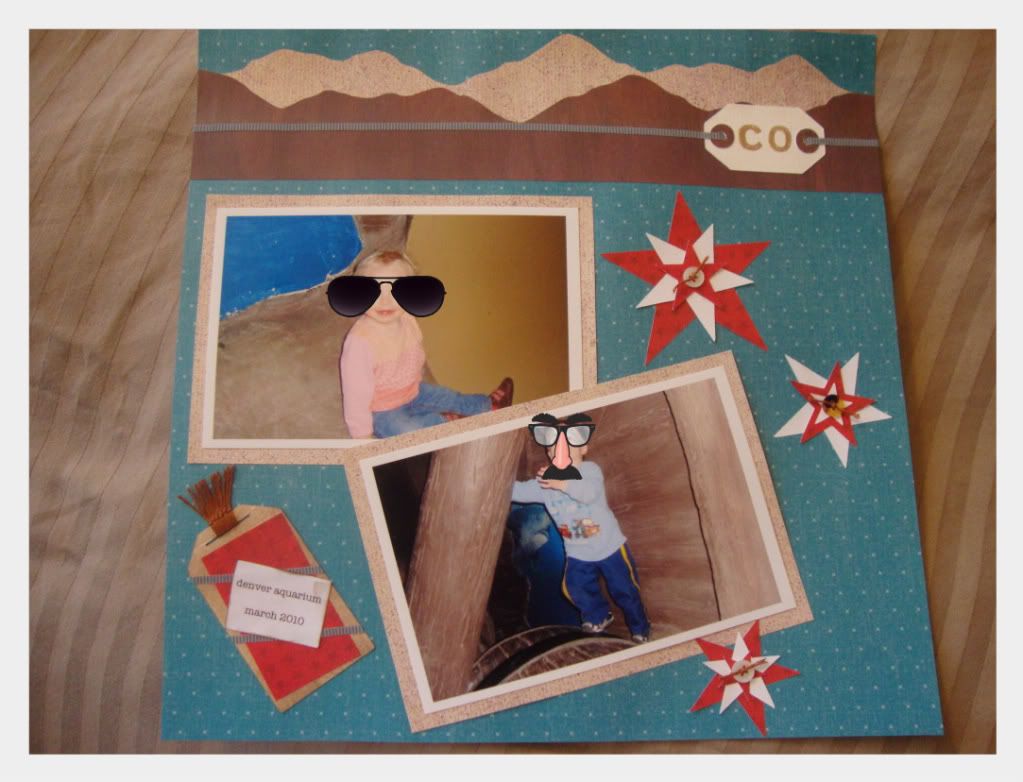 I need your advice!! Please tell me what I can do to make my layouts better. This was pretty fun and I'd to keep trying out new ones.
This is what I did:
I knew I wanted to use the mountain border since they recently moved to Colorado. I picked out two colors to use for the mountains and another that worked as the background. I cut out the mountain range in each color, and glued the negative of the brown onto the tan. I found this sticker ribbon that looked good and then felt I needed a strip of the brown underneath for balance. So I glued the mountains and the strip the paper and placed the ribbon over the seam.
I printed out the two pics I wanted with a white border(the kids faces are disguised for this post only - I don't know if my aunt wants their faces out there)
.
Then I used the same color as the mountains to make a mat for each. I fiddled around with placement and glued them down. I totally love tags, so I cut the white one and also cut the little circles to go around the holes. Stamped CO on the tag first with a light color and then with a dark one (this was a happy accident - the first color was too light) I lifted the ribbon back off to thread the tag on and then stuck it all back down.
I wanted it to have a kind of rustic/western theme and I also wanted to stick the Plantin School Book because that is what the class is using. I cut out a bunch of stars on red and white paper in varying sizes and layered them together. I punched two tiny holes in each and used embroidery floss to tie it all together with a button - no glue. Just a little glue stick on back to stick them to the page.
Finally the big tag
.
I cut this one out a while ago and painted the glaze from my family sign onto it. I used the leftover floss to make the tassel. I cut a square of the red paper and glued it on. Then printed the location and date from computer. Cut that down the size and inked the edges. I placed it on the tag and used the remaining sticker ribbon to make two parallel stripes underneath it.
If you read all that - THANK YOU!! I know it was a lot. If you have any tips, please please please share them. And any suggestions for further decorating this layout are much appreciated as well.
Thank you, xoxo,