Welcome to Part 5 of the cross stitching series. If you missed Parts 1, 2, 3 or 4 click below.
1)
Selecting a Kit
2)
Prepping your Kit
3)
The Stitches and following a pattern
4)
Outlines (back stitch) and Details
5) Personalizing a kit
6) Finishing and Framing
I always like to add something to my kits to make them more special and personal.
In order to make my turtle hooded towel extra special and cute, I stitched my cousin's name onto it.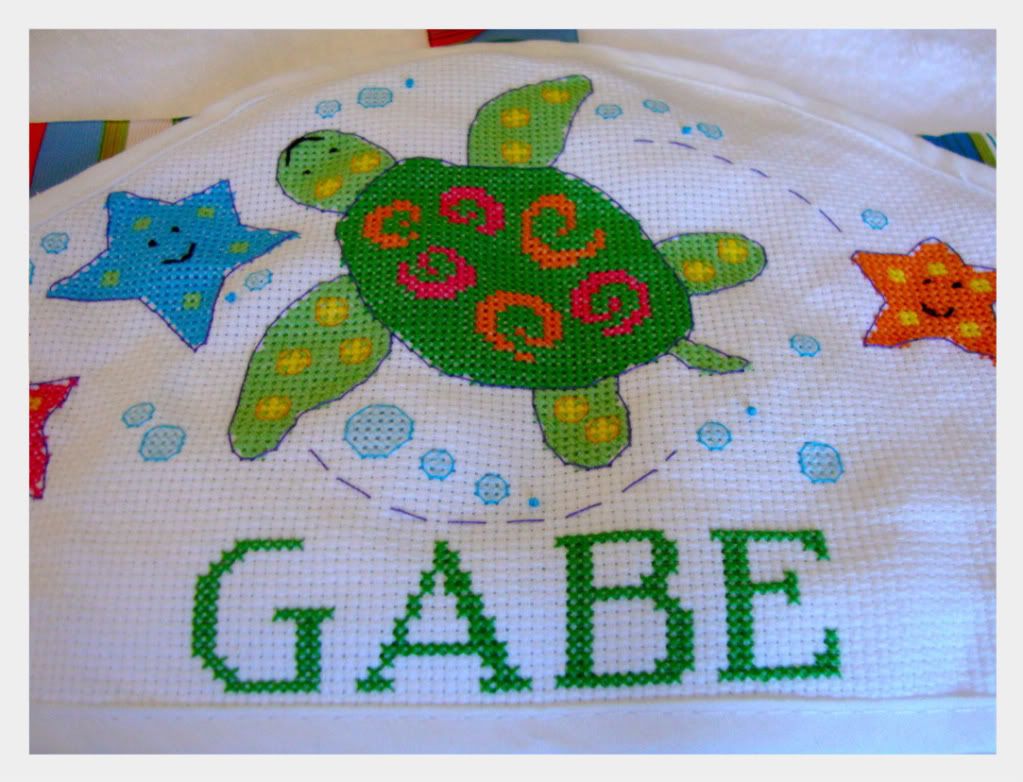 I found an alphabet template from an old kit to make the letters.
I also made a towel for his little sister this past week.
I used a girlier font on hers. It is centered on the hood but it is off from the lion - bah!!
It's also nice, especially on a design that will be framed, to add your initials and or date in the corner of the design. It's very easy to add your initials in a simple back-stitch.
There are also ways to add some sparkle and texture to your design. You can find metallic and sparkly filaments at the craft store in the needle-craft aisle. You can either add these to or substitute them for colors in your design. They are so pretty. I used light blue to make a twinkly sky once and white makes snow look amazing.
Beads and other charms also make great embellishments. You can attach them while you are working your cross-stitches so that they are very secure. Just use anything you find pretty and inspiring and I'm sure you can find a way to incorporate it!!