We all love our magazines right? I sure do! I currently have 8 subscriptions
-though 3 are about to run out and I am not renewing them-
I have my fashion/beauties - Lucky, Allure, Elle and Vogue (Elle and Vogue will be leaving me soon)
And my house mags - MS Living, Real Simple, House Beautiful and Country Living (Real Simple is getting the boot)
Every month I mark a ton of pages for products I want to try and little bits I love and want to remember.
I think we all struggle with how to store these articles.
We can save the whole magazine, creating stacks and stacks that take away space from more important things. Then go try to find what you are looking for - haha jokes on you.
Tear out the pages and hopefully have an immaculate filing system for them.
Find the link online and try to organize all the bookmarks on your computer.
I've tried them all and while it may work for a bit, it's no good for the long haul.
I do have my Martha binders that I've kept since my very first issue. Each article I want to save goes into a sleeve and then into it's appropriate tab i.e. good things, crafts, gardening, halloween, easter. Looking for a good thing from March 2006 - present? Ask me, I have them all!!
No other publication is allowed into my sacred binders though, so I came up with a solution for them!
First I have all the products I want to try. I took a scrap piece of pretty cardstock that was 12 by 4 or 5 inches. I folded it in half, then folded it in half again to make a little accordion. I also used a corner punch to round the edges. I put an italian paper clip (that's what the tin says) on each section. I have spots for 8 different articles.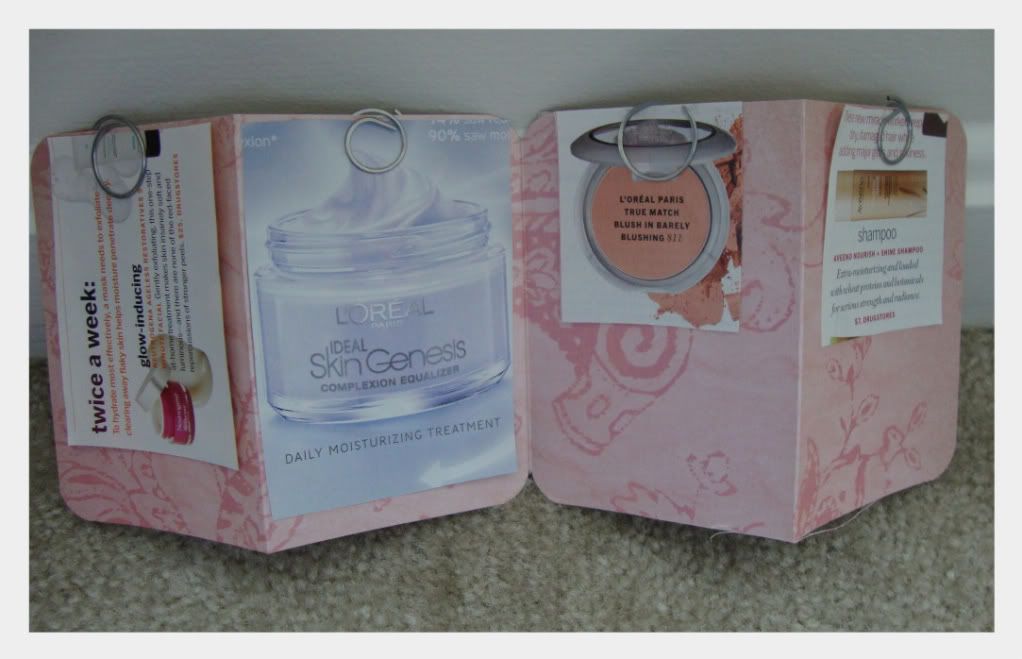 I want to try:
Neutrogena 5 Minute Facial from Ageless Restoratives
,
L'Oreal Ideal Skin Genesis Complexion Equalizer
,
L'Oreal True Match Blush in Barely Blushing
, Aveeno Nourish + Shine Shampoo
Sally Hansen 14-Day Nail Shield
,
L'Oreal Studio Secrets Magic Perfecting Base
,
Philosophy Soul Owner
, Caress Velvet Bliss Body Wash,
Johnson's body care oil infused indulgent body wash
I can toss this little folder into my purse so when I'm out shopping I know exactly what it was I wanted to try.
My other little idea was a way to store all of the home decor ideas I love. I cut out each little image and glued them to an index card. I also wrote the magazine and month on them and left lots of white space for notes. I also rounded the corners of each card because I am obsessed with my new corner punch :)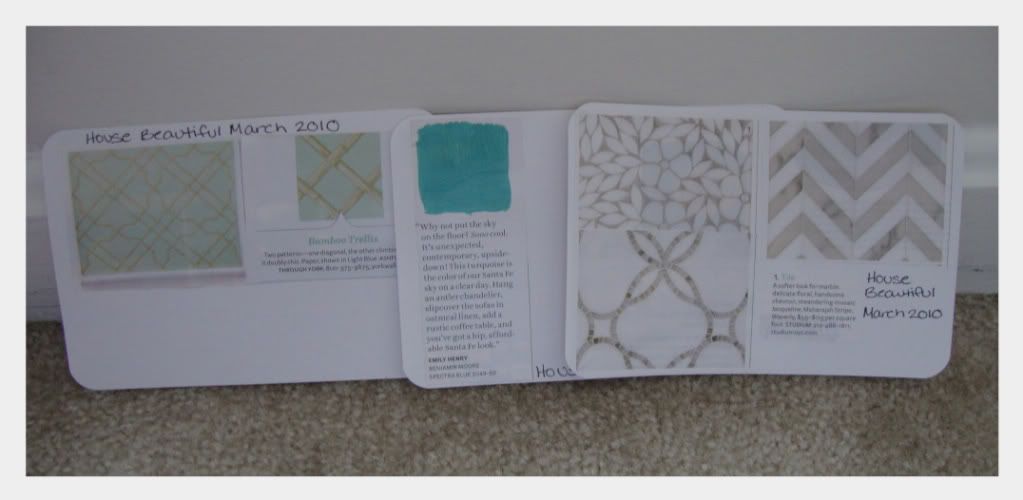 I am in love with these tiles and I think they would look amazing in a powder room.
This bathroom reminds me of the spa I visited over Christmas and I wanted to move into it!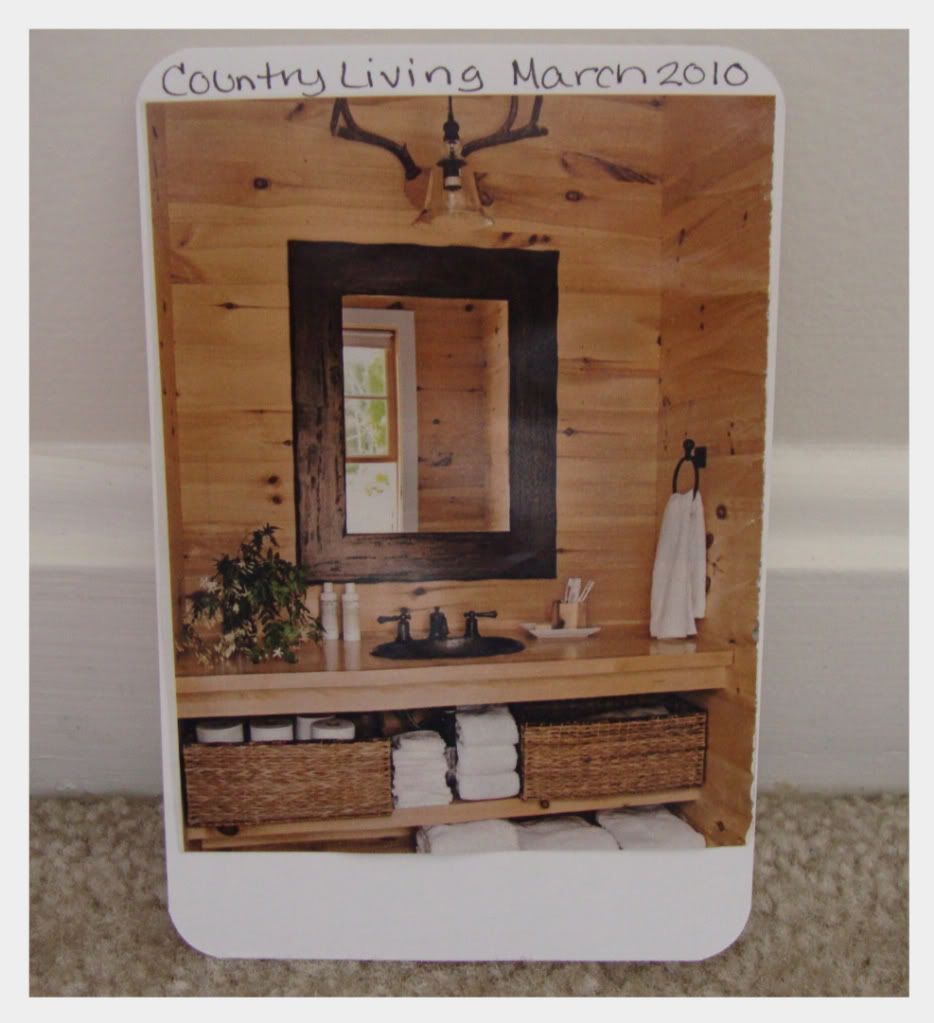 This little birdie hook is so sweet!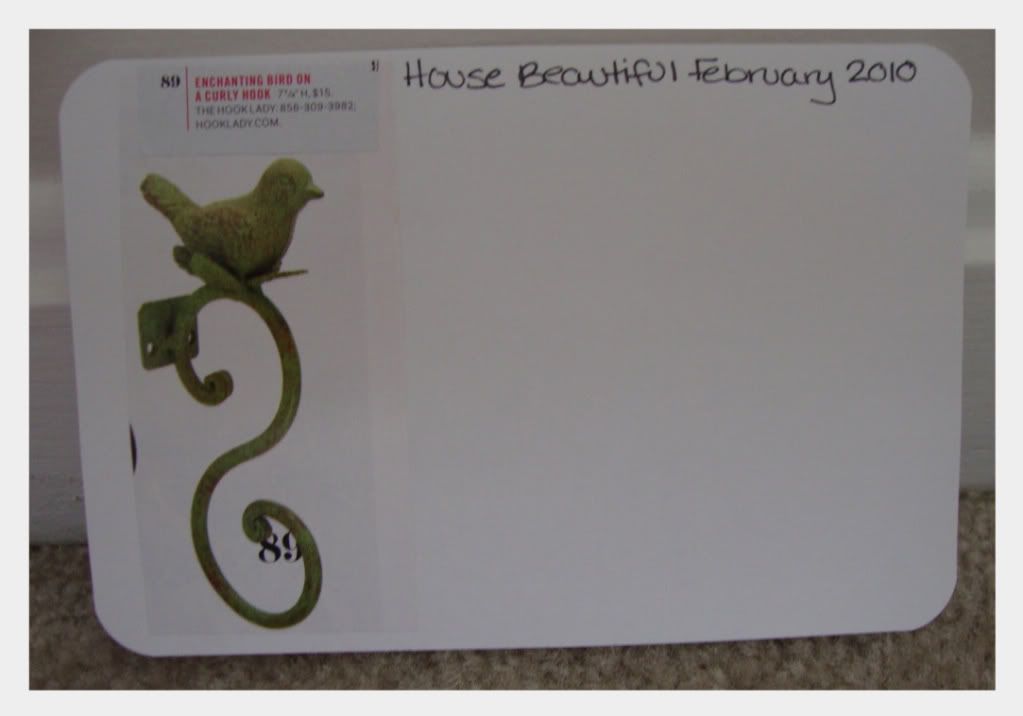 I've put them all into this little coupon holder. Whenever I need a little inspiration I can take a peek through here and quickly find what I'm looking for.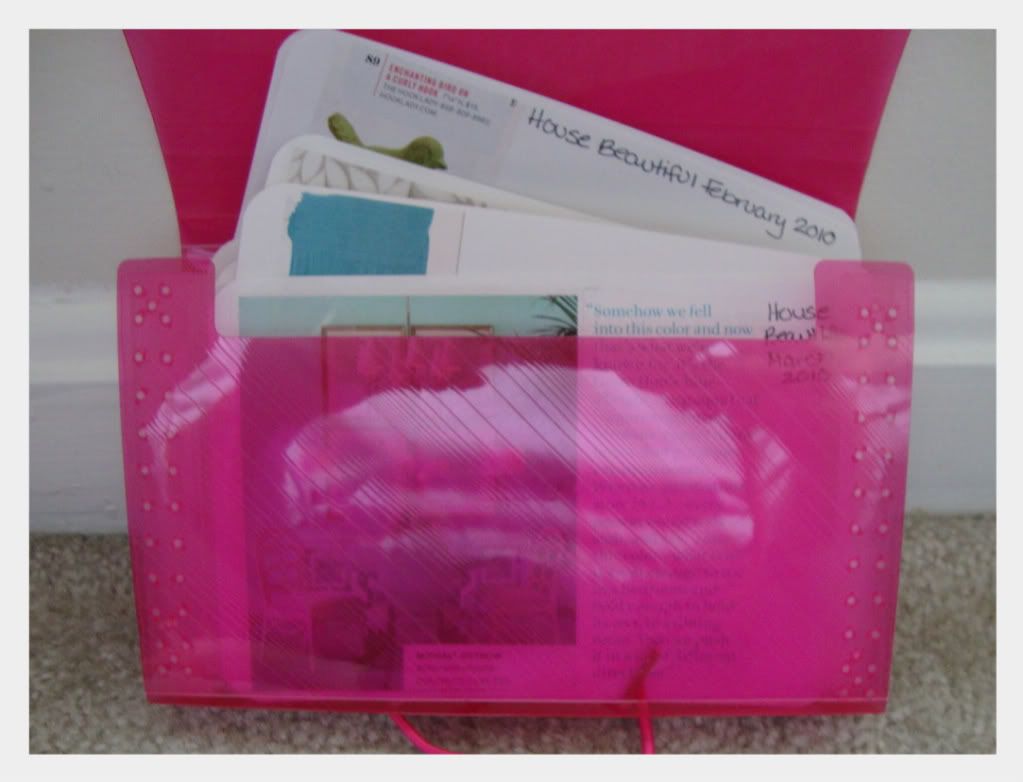 Let's hope my new system works in the long run. If not, I had fun playing with my corner punch.