I have a confession: I used to be a beauty addict. The evidence: you may have seen another blog on my profile - champagne and lipgloss. A few years ago I was writing about make-up everyday. And yes, that means I was buying new stuff almost as often.
Here is all my make-up. I used to have at least double this.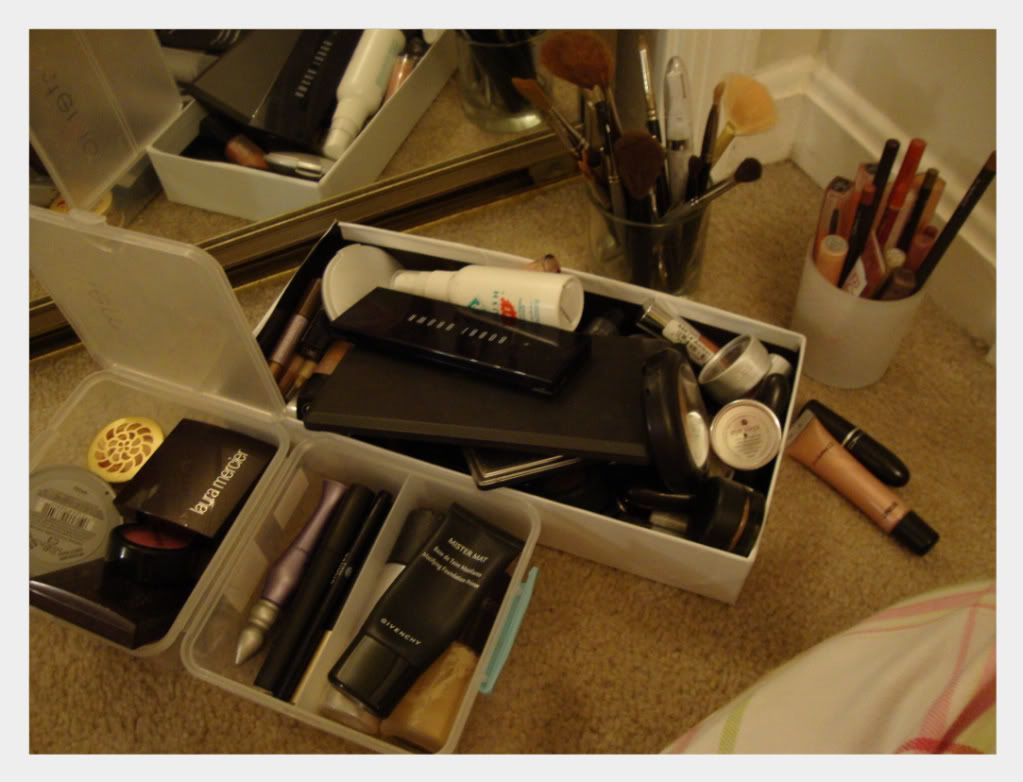 And here I am with nothing on my face.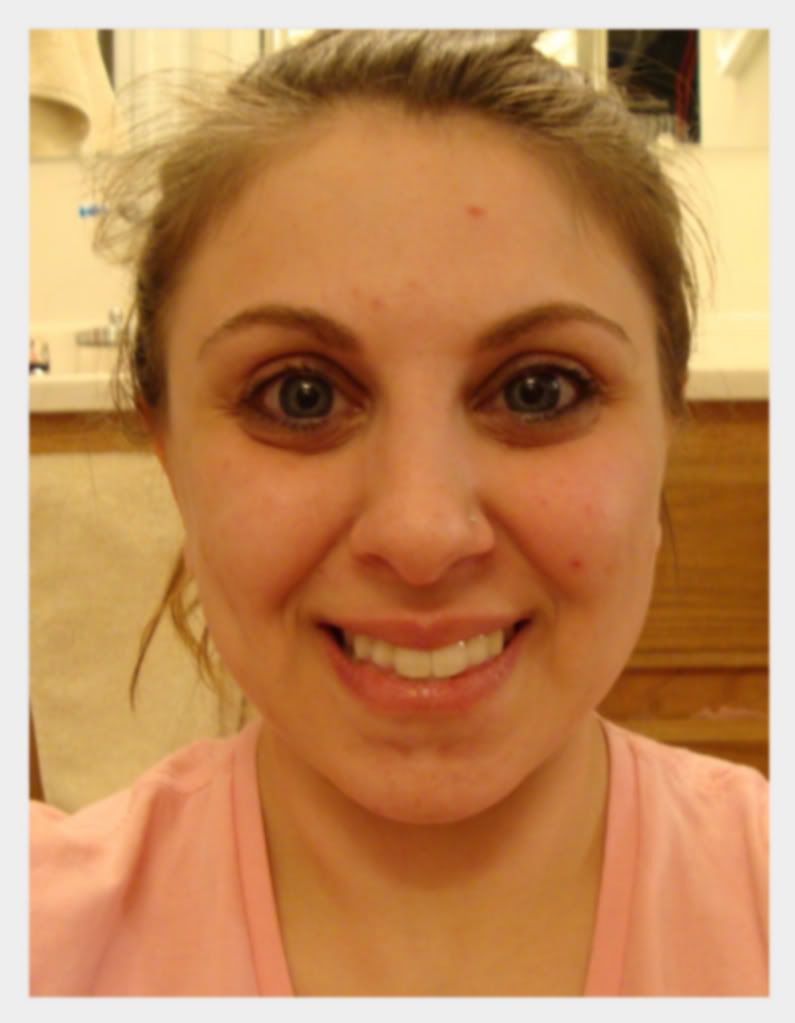 E-gad - break-outs and all. I made it through my teens with fairly clear skin and then found myself battling the breakouts in my 20s - what gives? I swear I look better in person. I go out a lot with no make-up. Grocery shopping, other errands. Sometimes I could care less. Or sometimes I care enough to put on mascara.
One thing I noticed while taking this picture was that my eyebrows were more jacked up than I realized. So before I did my make-up, I tweezed and trimmed my eyebrows. Yes trimmed - I was born with the most luscious, full unibrow you could imagine. My mom started tweezing the middle when I was 7. I had some pretty enlightening school photos. So there isn't much still growing between them, but they are very long and curly and I have to trim them.
And here I am with my normal make-up. Yes, I wear a lot. I know for a lot of you this probably looks like night make-up, but this is day for me. For night I would just darken up my eyes more. My look is always a darker eye and lighter glossy lip.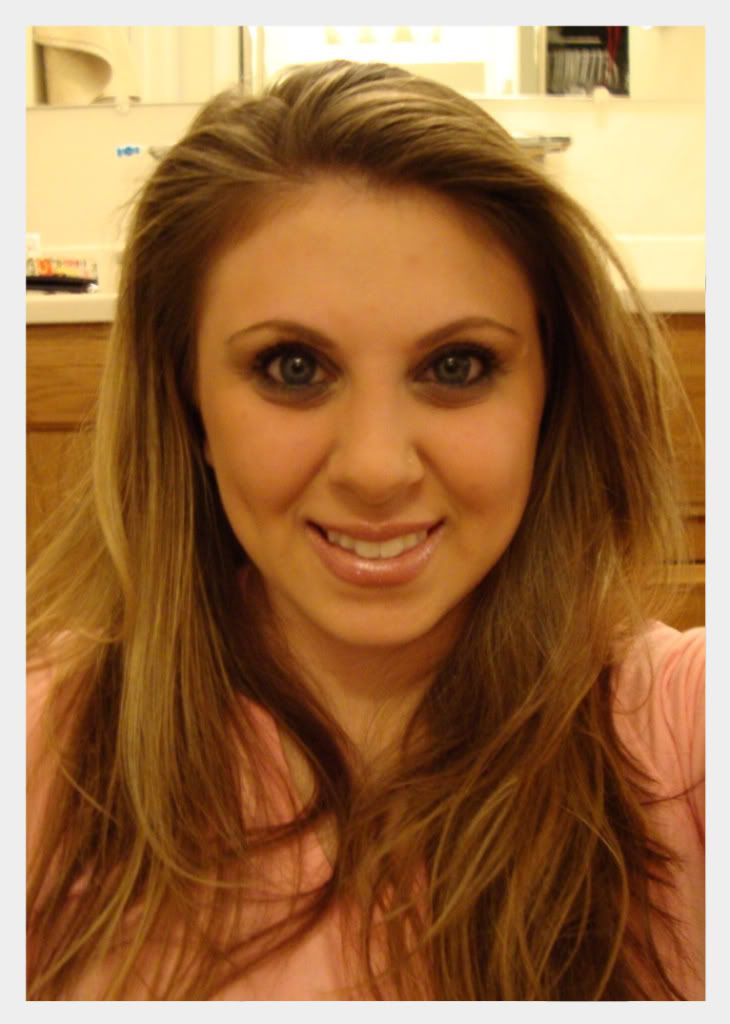 Here is what I used: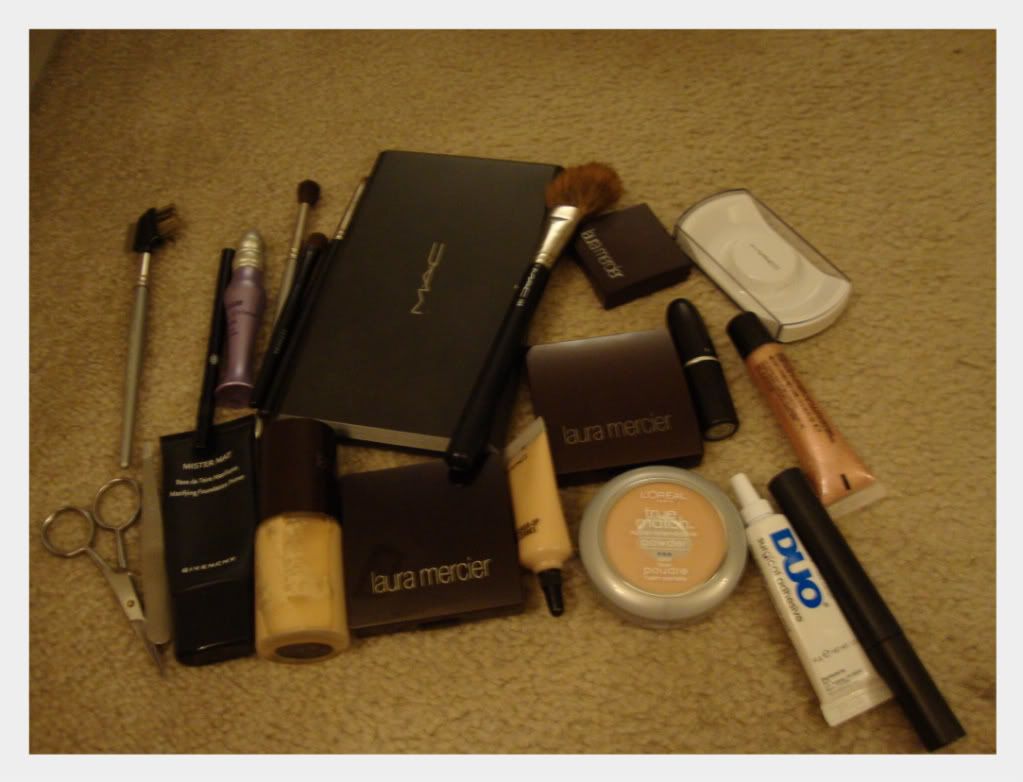 foundation primer
foundation
under-eye concealer
blemish/redness concealer
powder
eye-shadow primer
eye-liner (inside upper and lower rims) doing this really makes your lashes look fuller as it fills in all the gaps
vanilla eye shadow
light brown eyeshadow
sparkly wine eyeshadow
two coats mascara
bronzer
blush
lipstick
lipgloss
So there you have it, or me I guess.
UPDATE: SMOKY EYE HOW-TO
A lot of people have been commenting on my smoky eye and eye-liner - it is so easy, you can do it too!
I like to line my eyes first. This is the most intense and dramatic of the liner, shadow, mascara trifecta. By doing the liner first I can better judge the intensity of the final result. If I did my shadow first I might go too heavy and then adding the liner would be too much.
I start by pulling down my lower lid so I can see the rim
inside
my lashes. Use a mechanical or pencil liner and color that line in. Fool-proof - you don't make the line, your eye does it for you. Then place the liner in the corner of the rim, close your eyes a bit and run it along the top. Doing the bottom is pretty easy, your eyes may water the first time though. Doing the top is Bizarre. This will take a lot more practice and getting used to. For a long time I was able to only do the outer corner. I could not get the pencil to deposit color on the inner corner, but it still looked good. Just take it as far as you can. Any color helps intensify your lashes. The liner is going to boost your mascara by filling in your lash line. This will help make you lashes look lush and full. I use
Chanel Style Yeux in Ebene
, yes it is expensive but I love it.
You need three eyeshadows, a light, medium and dark. I used
Brule, Cork and Trax
- all MAC. I also used the
sephora professional #10
brush "fluffy eyeshadow" and
MAC 219
"pencil brush".
I used the fluffy brush to blend the light color all over my lids up to my brows. My blending motion are small moving circles. Then I do the same thing with the medium color just on the lids, from the outside and stop where the white of my eye starts again. This keeps that inner corner light. I also blend it from the outer corner up on the diagonal to the edge of my brow. Start with a little bit of color on your brush. You can always add more, but if you do too much you may need to start over. You can smudge out mistakes by blending a lighter color over the mistake area.
Then use the pointy pencil brush to dot the dark color onto/into your crease. This just depends how deepset your eyes are. Mine are pretty deep. Then use your fluffy brush to blend the dark color in. No color on the fluffy brush this time. Apply with the pointy and blend with the fluffy.
Right now I am loving
MAC Studio Fix Lash
. Place the brush at the base of your lashes and wiggle it while slowly moving it up. Then do a couple swipes. I use a
metal comb
to separate my lashes after.
Some times it is easier to watch when you are trying to learn make-up application, and since I am an ex-addict and not an artist, you should check out
Kandee Johnson on youtube
. She is a pro make-up artist and I love her videos. She does the same eyeliner that I do and she does lots of smoky eyes, too. Dig around all her videos, some of the ones from last spring are the best. I love her Carrie Underwood and Megan Fox looks.